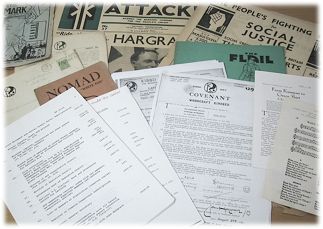 Papers, pamphlets and literature in the LSE
The extensive Archives of the Movement are now held on behalf of the Kibbo Kift Foundation at:-
The British Library of Political and Economic Science
London School of Economics
10 Portugal Street
London WC2A 2HD

Tel:- +44 (0) 207 955 7229

The Archive is located in the Special Collections Dept. and access is available by application to the LSE. Researchers are directed in the first instance to the Handlist of Papers revised and updated by William Bond in 1992.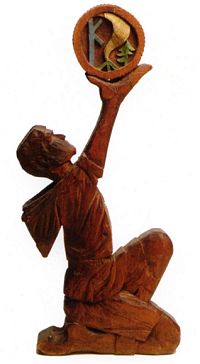 The Great Crest. One of the items
in the collection at the
Museum of London
The Foundation's substantial collection of costumes, regalia, banners and other memorabilia is housed at:-
The Museum of London
London Wall
London EC2Y 5HN

Tel:- 0207 600 3699
One or two items from the collection may be on public display from time to time, but access to other items is available to serious researchers by application to the Later Dept.
The Foundation's collection of photographs is split between Library and Museum. The bulk of the photographic archive is at the LSE, but most of the best images are kept at the Museum of London (Photographic Dept.)
All copyrights on items in the Foundation's archives and collections are most strictly reserved by the owners of those rights, and all enquiries regarding publication, quotation or the taking of photocopies or photographs must be directed to the Secretary of the Foundation.